YAY, Y'all! I am so excited that we are finally starting teacher talk today! It has been overwhelming to see so many gals interested in this fun community and I hope that we all make new friends and encourage each other this school year!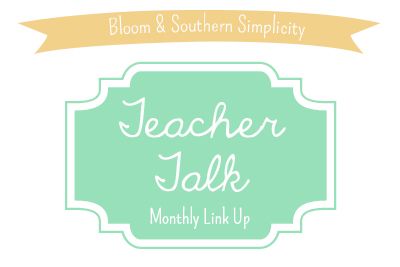 Today, we are just introducing ourselves and talking about why we do what we do. There is no better way to start this link-up, I think. So, here we go.
I'm a second grade teacher at a small private school in North Mississippi. All my public school teacher friends hate me because I only have nine students. Yes, you read that right. I only have NINE babies in my classroom. I'm sorry. Ha! Really though, I've been so blessed. I have no doubt that I am right where the Lord wants me.
For many teachers, the "why do you teach" question will have the same answer. You teach because it is your passion. It is your love. It is what you were made to do. A few years ago, I would have said the same thing. I mean, I never doubted for one second that my calling was to teach. I never even allowed myself to think about the option of doing something else with my life. I just knew. In the last year, however, things have changed. I don't feel in my heart that this is my forever calling. I don't think this is what the Lord will have me doing for the next 30 years. So... why do I teach?
I teach because that is what the Lord told me to do.
God basically sent me a note one day that said "I've already lined up a teaching job for you and just have to accept it. You'll be in second grade. Congratulations!" Okay, so it didn't go exactly like that, but it was pretty close. The Lord was very clear in showing me what the next step of my life was going to be and I have full peace knowing that I am right in the middle of His will.
I teach because God has equipped me to have a classroom of nine second graders. I teach because the Lord has given me a love for children and a desire to see them grow. I teach because the Lord has shown me grace upon grace. I teach because the Lord wants to use it to change me. Not just my students. I teach because it is where God has seen fit to use me in this season.
I am overwhelmed by God's provisions in this season. I love my kids and I thrive in my classroom. It will be a place where I can pour my energy while Ty is gone during the week. It is a place where I can freely talk about Jesus and try to answer fun questions like, "Mrs. Cole, did Noah have dinosaurs on the ark?" It's a little home in my second grade room. I am thankful for my babies and I pray that I would allow God to move this year. I teach because the Lord told me to. Why do you teach??
I'm so glad you're here! Link up below. :)