I wanted to give you a little reminder about our
Teacher Talk
link-up! Jamie and I are both so excited about the opportunities we will have to meet new ladies and encourage y'all during this school year! Next week we will have our FIRST link-up where we will introduce ourselves! Write up a post about you, where you live, what you teach, and why you teach. I think it will be SO encouraging to connect with more teachers or you future teachers who are finishing up your degree.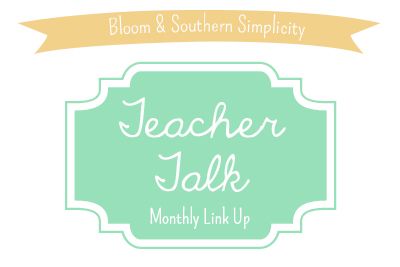 I can't wait for this link-up to begin! I think it will be such an encouragement to all of us teachers these first few months of school. If you've signed up to be apart of the partner system I have started to pair you up and I will send an email with your partner and more information by our link-up time next Tuesday so you can go and meet your partners!
This past week I had a sweet reader email me a link to one of her recent blog posts about not being able to find a teaching job. I know there are many of you out there who are still waiting for that job. Or waiting for that ring. Or waiting for that baby. I love Rachel's heart and I pray that even as we begin a season soon that I didn't plan, that I would have a heart that is set on Jesus. That I would embrace this season because it DOES have a purpose. Read her post HERE and be encouraged!
I hope you guys have a great Wednesday!