"What advice would you give to girls who have never had a boyfriend but want God to bring you one eventually?"
Hmmm. I had about zero thoughts running through my head when I first read that question when my survey was posted a few months back. What would I say? I feel as though I have a million things to say and not a thing to say all at the same time. How do I put into words what I've learned? How do I even fully understand for myself what all I've learned? I've gotten some really tough emails lately with questions and concerns that I'm truly just having a hard time wrapping my mind around. I do firmly believe, however, that I've lived the life I've been given and, thank the Lord, I've learned a few things along the way. This will be far from the most perfect answer you've ever heard, but I'll give it my best shot. Ready?'
Pray. Pray and protect your heart. This will sound incredibly cliche, but more prepared YOU are the more that you'll be ready when the times comes. Andy Stanley has an AMAZING sermon series called Love, Sex, and Dating (listen to those here) and in the very first sermon he poses this question:
"Are you the person the person you're looking for is looking for?"
Are you the type of girl that your "dream" guy would love? Are you the type of girl that a godly man is looking for? Do you have the traits that a man of character is looking for? Do you hang out with the type of people that will lead you to your man?
Those are all really good questions to be asking yourself as you wait on the man the Lord has for you. Be pouring yourself into your relationship with Christ and learn how to truly seek Him with your life. I believe that you can't prepare your heart enough. Pray for purity, pray for contentment, pray for peace, pray for wisdom, pray for your attitude. I promise you that all these things will be challenged when that man you long for comes into your life. Satan is waiting and ready to attack you in any way and form he can, so pray up, sister! Begin praying for that time now and continue to seek the Lord. I believe it all begins there.
------------------------------------------------------
To end today's post I want to share a little Q&A I had with one of my sweet sponsors, Katie. I have loved YOUR questions so much that I thought it would be fun to ask Katie some questions, too! Katie is the girl behind Unwritten and I enjoy her blog SO much. I love that you can find a little bit of everything there and you never get "bored" with what she's talking about. Go see for yourself HERE!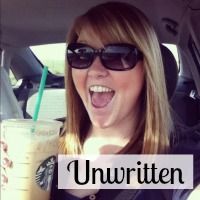 1. If you could describe your blog in one word, what would it be?
Oh this is a tough one! I think I would describe it as personal. It is about me, my life, and the things I love. What I share are things I value, love, and think highly of. I want to make my blog my own. For me and I hope others enjoy it and can relate.
2. If we were to sit down and chat over a Starbucks today, what would we talk about? And what drink would you have?
Oh how I love getting Starbucks with friends and I know we would have a ton to talk about. First of all, I would be drinking a vanilla latte or an iced coffee, depending on the weather. We would be talking about our relationships with Christ and how they came to be, what you feel God is calling you to do in life (besides teaching and being an amazing wife of course!), our guys and I would definitely want to hear more about your sweet love story, and blogging! Also, I would love to hear from you what it means to be a woman of God and chat about different ways to be that! I love talking with friends and even though I feel like I know so much about you through your blog, there is always so much more to know/talk about!
3. What's your dream job?
I don't know if I know exactly what my dream job would be. I would love to be a High School History teacher (that's what I got my degree in) but still unsure if I want to go forward with it and get my teaching credential. I would love to be a stay-at-home mom someday, or a professional mom as I like to put it, so I can raise my kids and still have time for hobbies I love. This is something that has been on my mind for the past year or so and something I am still trying to figure out.
Isn't she fun!? Go meet her, girls! Thanks for sharing, Katie!